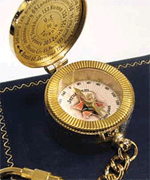 This site, provided by my friend Jerry, shows us how anyone will buy anything so long as you market it right.
The Kosher Compass
claims that it will always point to Jerusalem and doesn't necessarily always point east.
They claim it is also patent-pending, and contains no circuitry, I can only imagine how it analyzes barometric pressure, compass coordinates, etc and then miraclously points east!